Spider plant - Chlorophytum Comosum
Spider Plant is an impressive house plant for beginners. It's easy to care for, tolerates average room conditions, and is easy to propagate. Spider plants look best in hanging baskets or on tall stands or pedestals to show off their trailing foliage. Their variegated leaves and graceful, fountain-like growing habit add a beautiful contrast and texture when grouped with other house plants. When less than a year old, the plant produces small, white flowers on the tips of wiry, upright stems, called runners. The runners are soon weighted down with plantlets giving it a spidery appearance.
Light & Temperature
Outdoors, spider plants prefer to grow in light shade. They can tolerate heavy shade, but their growth won't be as robust. Direct sunlight can scorch the leaves. Indoors, a bright window or patio door that gets indirect sun is ideal. Warm, humid conditions are ideal for spider plants. They don't like temperatures below 50 degrees Fahrenheit. This means they should be protected from drafts and air-conditioning vents when grown indoors. Moreover, the leaf tips can brown if the humidity is too low. Regular misting of the plant can help to maintain adequate humidity.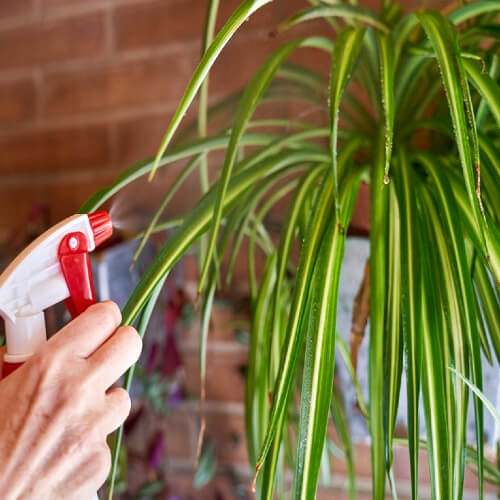 Watering
Spider plants like lightly moist but not soggy soil. Overwatering can cause root rot and ultimately kill the plant. These plants are sensitive to fluoride and chlorine in water, which can brown the leaf tips. So, if possible, use rainwater or distilled water for container plants. The fleshy tubers retain moisture well, so inconsistent watering, while not ideal, won't harm spider plants too much.
Fertilization
Spider plants can grow in a variety of soil types, but they favour loose, loamy soil with sharp drainage. These plants like a moderate amount of feeding, roughly once a month during the active growing seasons of spring and summer. Too much fertilizer can cause brown leaf tips, but too little fertilizer will result in weak growth. Use an all-purpose granular or water-soluble fertilizer during the growing season, following label instructions. Adjust the amount if necessary, depending on your plant's growth.
Grow spider plants in containers that are no more than 1/3 larger than the root ball. Ensure that the containers have ample drainage holes, and use a loose potting mix. Spider plants will typically need repotting every two to three years. You'll know it's time when you see roots protruding out of the drainage holes and up above the soil line. The best time to repot is in the spring. Gently remove the plant from its old container and position it at the same depth in a slightly bigger container. Then, fill around it with fresh potting mix.
Pruning

: Remove dead or browning leaves as they appear. If a plant is becoming too leggy and sparse, remove the plantlet shoots to redirect energy to the main plant.

No blooms?

 Spider plants like to be slightly root-bound and will flower and produce plantlets best when grown in a smallish container. Also, take it easy on the fertilizer — too much will produce a lot of leaves, but no flowers and plantlets.

Brown leaf tips

 seen on this plant may be a symptom of hot, dry air or dry soil. Or may be caused by fluoride, often present in tap water. Use distilled water, rainwater, or allow tap water to sit overnight so that the chemicals in the water will dissipate. Snip off brown leaf tips with scissors, if you want, to keep the plant looking neat.

Something bugging your plant?

 Watch for scale insects. These tiny pests look like brown discs that attach themselves to the leaves and stems. They can be scraped off the leaves. Isolate an infested houseplant to prevent them from moving on to your other indoor plants.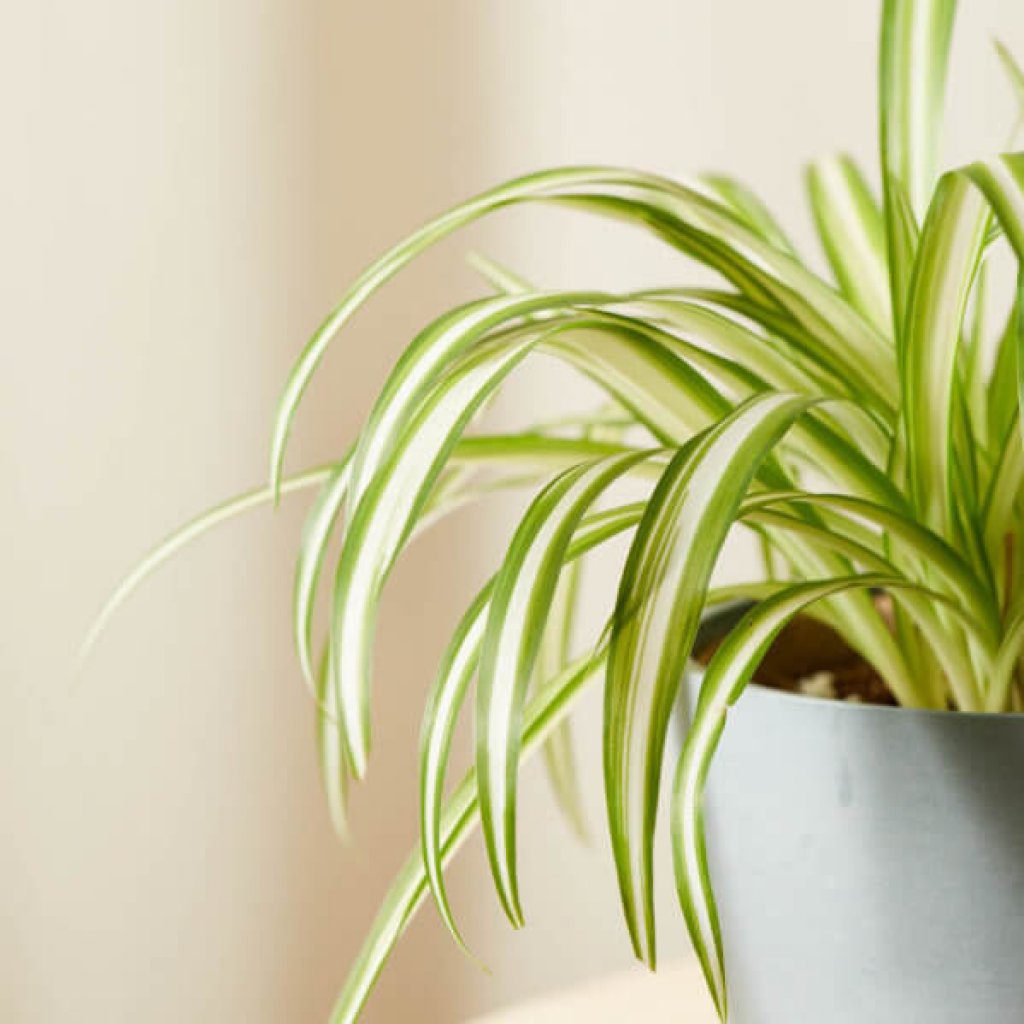 Potting Mixture: It's a mixture of appropriate amounts of soil, cocopeat & organic vermicompost. Provides best environment to the plant's roots. It also contains slow-release Fertilizer which gives nutrients to the plants every time it is watered for 6 months.
· Packaging: Plant is secured in a good quality cardboard packaging. Inner Box holds the potted plant in place so that any movement during transit does not affect the plant. Outer box has slits which allow the plant to breathe freely during transit.