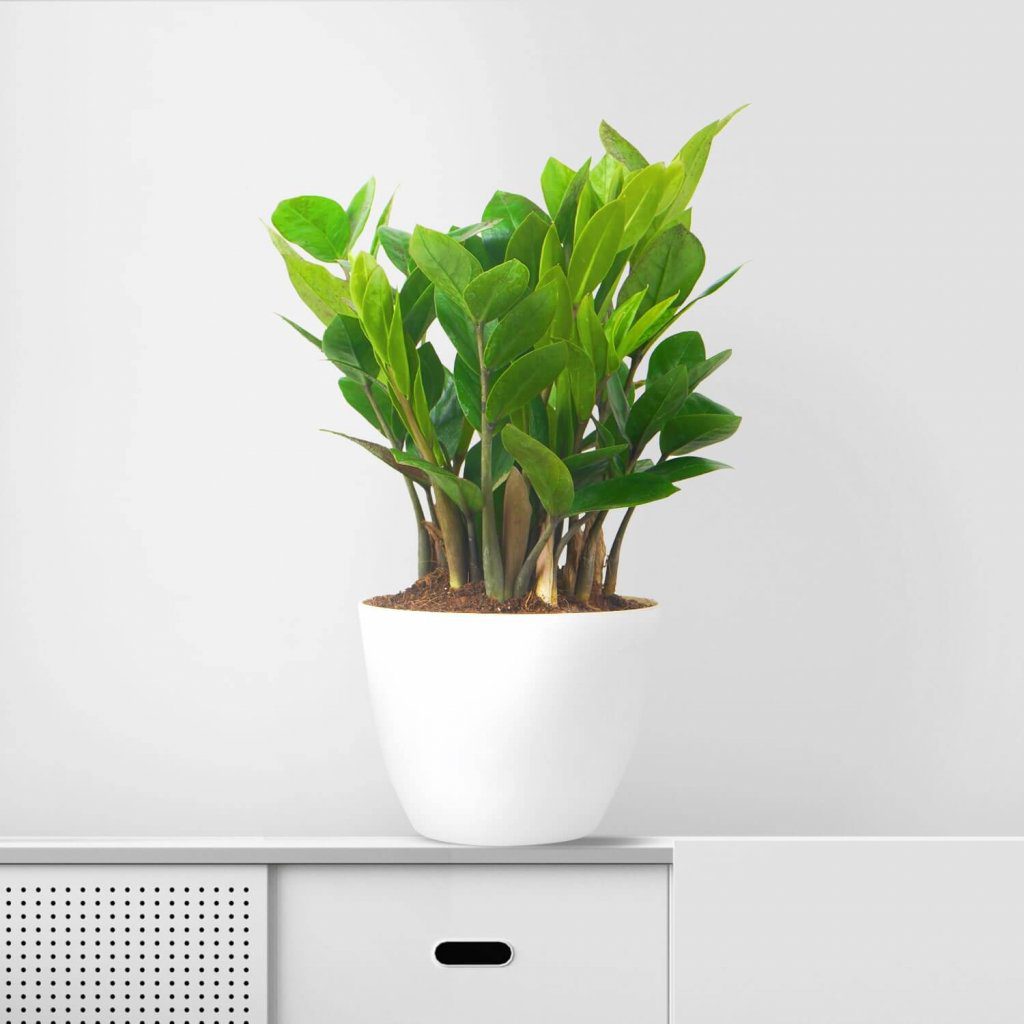 ZZ Plant - Zamioculcas zamiifolia
ZZ plant, with its wide, attractive, dark green leaves, boasts many favourable traits for offices and homes. ZZ plant tolerates neglect, is drought tolerant, and accepts low-light conditions without throwing a fit. Its waxy, smooth leaves reflect sunlight and brighten rooms. ZZ usually grows slowly to a height and width of two to three feet so it is not a plant monster that outgrows containers quickly. Care of ZZ is simple, making it the gold standard for houseplant beginners, preoccupied office workers, and brown thumbs.
Light & Temperature
ZZ plants do best in bright to moderate, indirect light, but will do fine in extremely low levels of light. This plant makes an ideal plant for a window-less office or bathroom where it will only receive small amounts of fluorescent light. While ZZ plants can take direct light, you may see some scalding on the leaves if it is left in direct light. Additionally, curling leaves, yellowing, and leaning can all be an indication of too much light.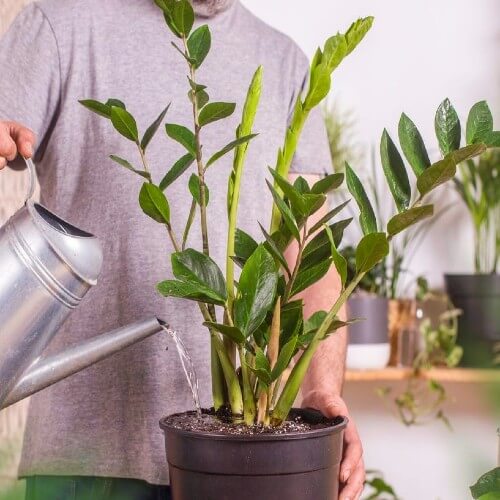 Watering
ZZ plant care starts with a lack of care. In fact, ZZ plants will do better if you leave them alone. Much like cacti, they need less rather than more water. Water the plant only when the soil has dried out. The rare way you can kill this plant is to over water it. ZZ plant turning yellow means that it is getting too much water and its underground rhizomes may be rotting. So, if you remember nothing else about caring for a ZZ plant, just remember to forget to water it. It can survive months without water, but will grow faster if watered somewhat regularly.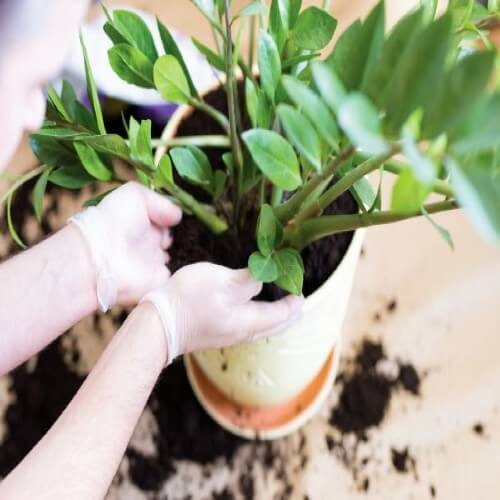 Fertilization
ZZ plant luckily doesn't need any special type of potting soil: any well-drained potting soil will do. As for feeding, ZZ plants are happy without fertilizer, but if you would like, you can apply a balanced liquid houseplant fertilizer (20-20-20) once a month when watering.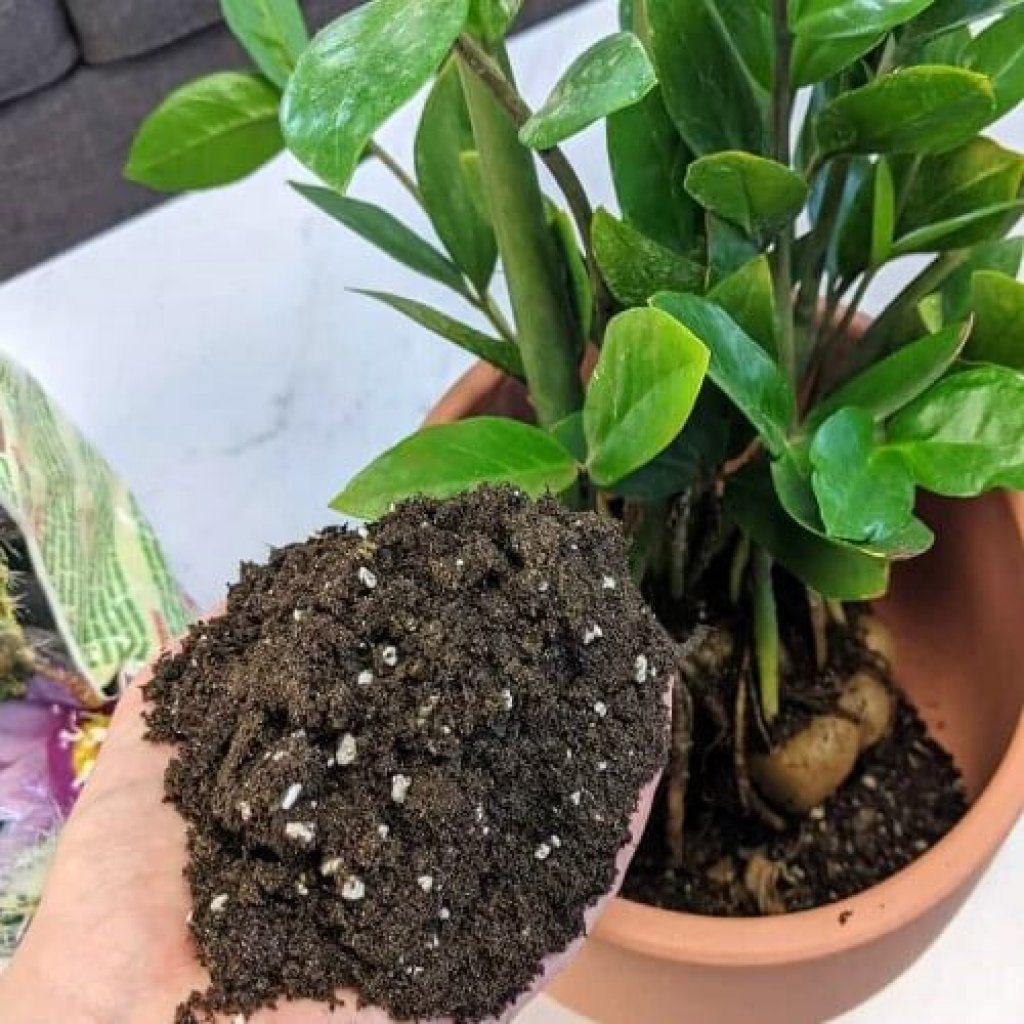 ZZs have a reputation as slow growers, so they don't need to be replanted very often. Transplanting up a pot-size once every two years is usually all these plants need from us. The larger pot will give the ZZ room to spread its roots and rhizomes out, which will in turn allow it to continue growing taller and wider and eventually become a large plant (ZZs can reach up to 2-3' in height). To do so, gently remove your ZZ from its old container. The best way to do this is not yanking or pulling but rather flipping the entire plant and sliding it out once it is upside down. Discard the old soil and fill your new container about ⅓ of the way full with fresh soil. Place your plant in and put soil around the edges until your new container is filled.
ZZ plants grow from large, thick rhizomes that resemble potatoes. These rhizomes store water, which is why the plant does well during droughts and places where forgetful owners live. Propagating ZZ is as simple as separating these rhizomes and replanting. Another method is to take a cutting with two leaves and a bit of stem. ZZ grows quicker when more rhizomes or larger rhizomes are grown together.
ZZ plants have very few insect or disease problems. The most common problem is brown scale insects on their foliage. These pests can be removed with rubbing alcohol and cotton balls or swabs.

Pruning – Cut away leaflets that are turning yellow near the base of a stem. Once a stem has grown much longer than all other stems you can remove that stem or cut it to size at the tip. The problem with cutting it to size at the tip is it can look quite odd, so removing it completely might be the best option.

Lower leaves turning yellow – A small number of lower leaves turning yellow and falling is quite normal. If many leaves are turning yellow – check that you're not overwatering.

Leaf tips turning brown – The cause is likely to be dry air and low humidity. Misting the leaves can help improve humidity.

Leaves turning brown – Overwatering is the most common cause here, especially if the leaflet feels a bit damp and not dry.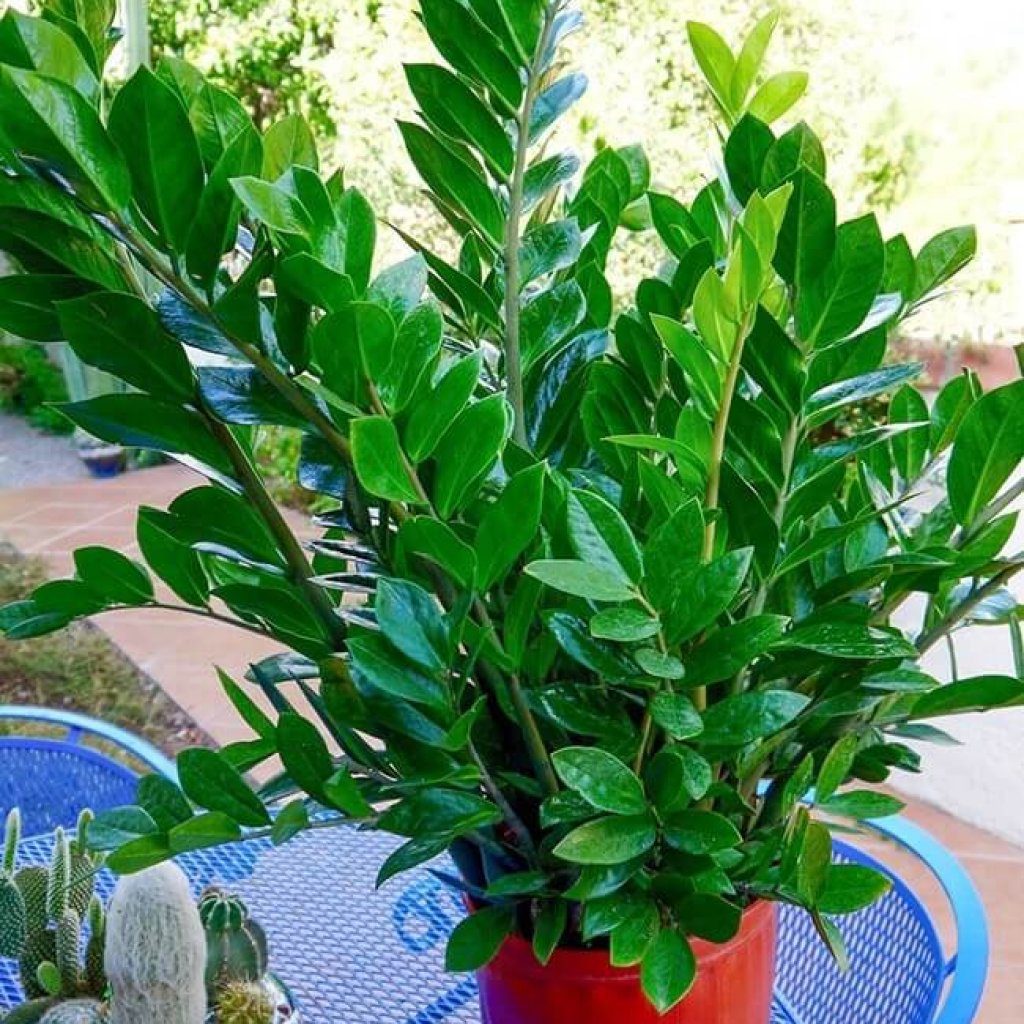 Potting Mixture: It's a mixture of appropriate amounts of soil, cocopeat & organic vermicompost. Provides best environment to the plant's roots. It also contains slow-release Fertilizer which gives nutrients to the plants every time it is watered for 6 months.
Packaging: Plant is secured in a good quality cardboard packaging. Inner Box holds the potted plant in place so that any movement during transit does not affect the plant. Outer box has slits which allow the plant to breathe freely during transit.