Peace Lily Plant - Spathiphyllums Wallisii
When it comes to the meaning of the "Peace" part of its name this is down to the flowers with the white raised spathe looking like a white flag of surrender seeking Peace Lily Plant. With the striking contrast of the dark green foliage and the creamy white flowers held high on stiff stems it holds its own well and looks attractive in all types of homes and design schemes.
Light & Temperature
Peace Lily Plant are shade-loving plants in their native habitats, but when grown indoors they need a bit more filtered light, though not direct sunlight. Curled, pale leaves generally indicate that the plant is receiving too much light and scorched leaves indicate too much direct sun. In either case, the plant should be moved to a shadier location. These plants really prefer moist warmth. Avoid cold drafts and temperatures that fall below 55 degrees Fahrenheit.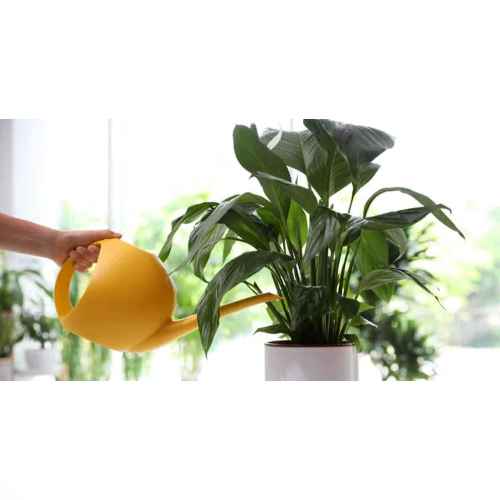 Watering
Peace Lily Plant much prefer being underwatered rather than overwatered, so take care to water them only when they're dry at least an inch below the surface. During the summer, mist peace lilies frequently because they thrive with higher humidity like is typical in a rainforest. In winter, reduce watering but never allow the soil to dry out completely.
Fertilization
Peace Lily Plant like rich, loose potting soil that contains plenty of organic matter. Peace lilies appreciate frequent feedings, which result in the strongest plant and seasonal blooming. Feed your plant weekly in the summer or use slow-release pellets at the beginning of the season. Do not need to fertilize the plant during the winter.
Potting & Repotting Peace Lily Plant
When potting, choose a sturdy pot material as strong roots can easily crack and break weak pots. Snake Plant is generally a slow grower that rarely needs repotting, but if given ample sunshine, they might grow rapidly and require repotting or dividing. The best time to repot these plants is in the spring. When repotting, always use fresh potting soil, a cactus potting mix, or a mixture of both.
How to Get Peace Lily to Bloom
Snake plants produce rhizomes and are easily divided. Although this can be done any time, spring is best. Your newly propagated plants will also grow faster as summer is growing season. You can also propagate snake plants through leaf cuttings. Just cut 2 to 3-inch pieces of a leaf and place them about 1 inch deep in soil appropriate for snake plants. Make sure to plant cuttings facing up, the same direction they were growing. Enjoy! Snake plants look great in varied-height clusters.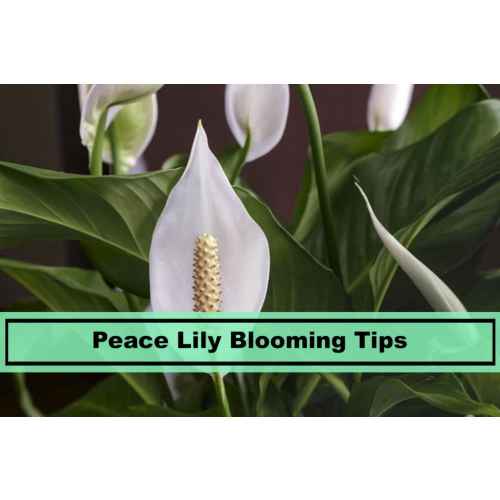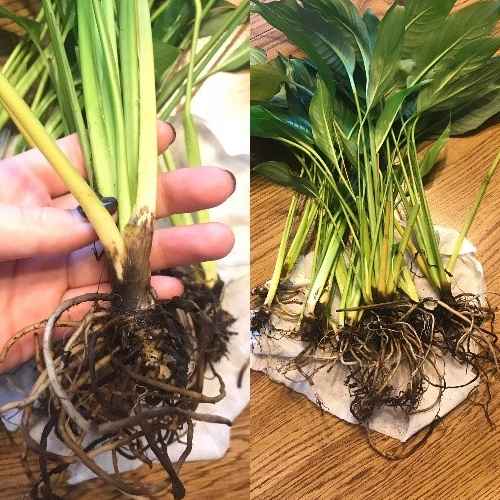 Propagating Peace Lily Plant
The Peace Lily Plant is generally propagated by dividing clumps during repotting activities, which can be done during any season. Inspect the plant for small offshoot crowns located adjacent to the main mother plant; this is a sign the plant is ready to divide. Here's how:
Remove the entire plant from its container, then tug apart or cut away the adjacent crowns. You can also simply cut away a section of the main root ball. Any piece that has two or more leaves and attached roots will likely grow successfully.

Fill a 6-inch pot with fresh potting soil that is moist but not soggy.

Immediately plant the clumps in the container and water thoroughly.

Keep the plant somewhere warm and well-lit. The roots should re-establish themselves in less than a month.
Pruning

: Peace Lily Plant produce their flowers on stalks that grow up from the base of the plant. Once a stalk has made one flower, it won't make any more– after the flower fades, the stalk will eventually brown and die as well. Peace lily pruning should be done at the base of the plant. Cut the stalk off as close to the bottom as you can. This will make room for new stalks to emerge.

Brown leaf tips

are commonly caused by excessive direct sunlight, over-fertilization, or lack of water and/or low humidity. Keeping the plant on a tray of moistened gravel or misting the leaves can help to increase humidity.

Yellow leaves

may be caused by overwatering, underwatering, or old age (of the leaf). If the oldest leaves are yellowing and the plant hasn't been repotted in a while, it may just need more space to stretch its roots.

Scale and mealybugs

will happily take up residence on the plant, if given the opportunity. A thorough wipe-down of leaves with a dish soap and water solution or insecticidal soap can be effective at stopping them, though repeated applications may be necessary.
Self-Watering Pot

: Excess water gets stored in the reservoir below, the roots then absorb water via capillary action and the plants get water as and when required. It allows you to water less frequently making the plant easy to care for.
Potting Mixture: It's a mixture of appropriate amounts of soil, cocopeat & organic vermicompost. Provides best environment to the plant's roots. It also contains slow-release Fertilizer which gives nutrients to the plants every time it is watered for 6 months.
Packaging:

 Plant is secured in a good quality cardboard packaging. Inner Box holds the potted plant in place so that any movement during transit does not affect the plant. Outer box has slits which allow the plant to breathe freely during transit.