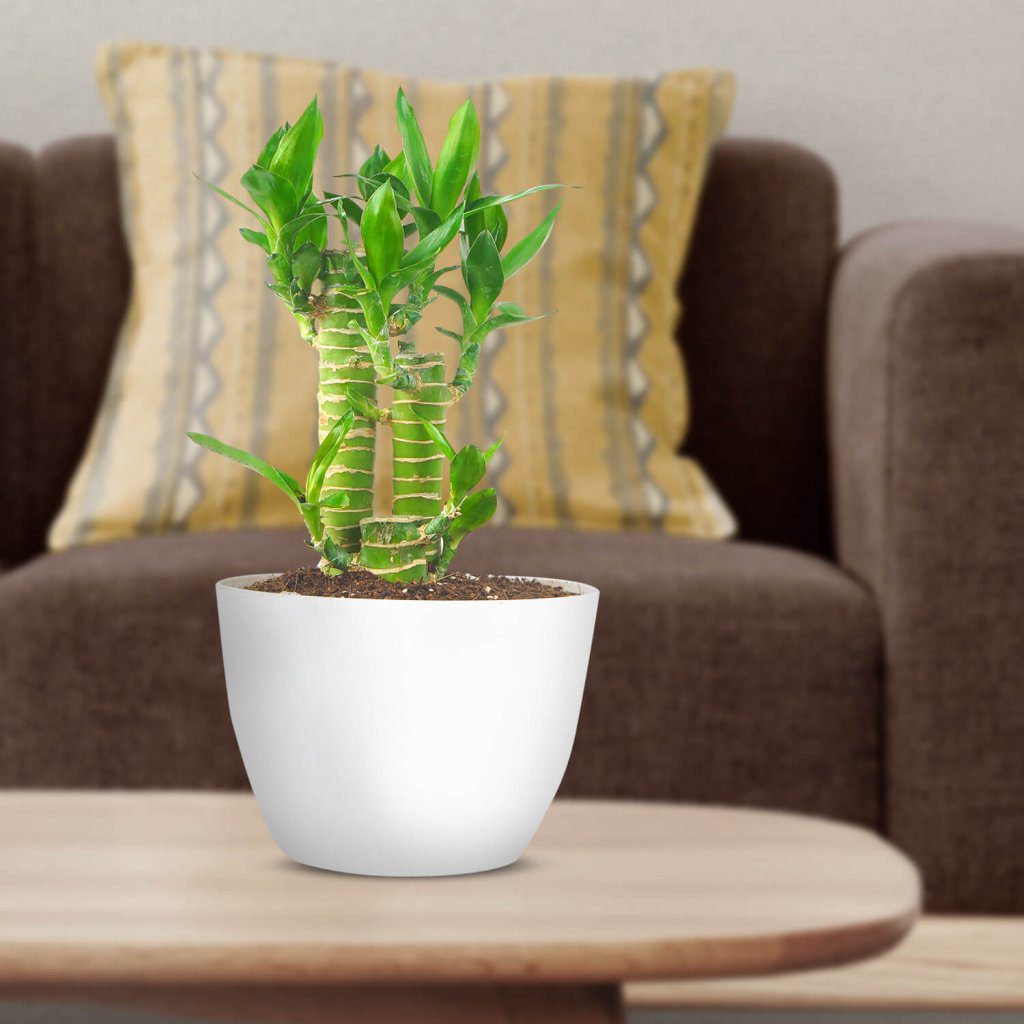 Lucky Bamboo Lotus Plant – Dracaena Deremensis
Lucky Bamboo Lotus Plant , also called love bamboo or rose bamboo, is so named because its tightly clustered leaves resemble lotus flowers. Lucky Bamboo Lotus Plant as slow-growing, with stems growing approximately 6 inches per year, make it an excellent choice for a decorative focal point in your home or office. The lucky bamboo arrangement is a combination of five essential elements of Feng Shui – earth, wood, water, metal, and fire.
Traditional beliefs : The plant's name suggests associations with the symbolism of bamboo and lotus in Chinese and other Asian cultures, in which bamboo stands for longevity and vitality, while lotus symbolizes purity and good fortune. The plant is traditionally placed near the entrances of offices and shops to bring in positivity.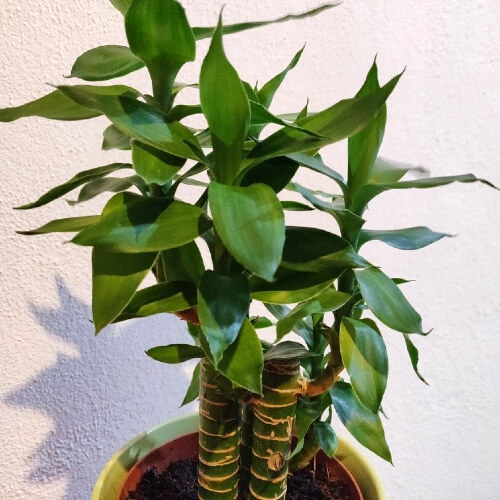 Light & Temperature
Flourishes best in bright indirect light. In its native environment Lucky Bamboo receives an ample amount of light. However, the surrounding plants shade the lucky bamboo from direct exposure to the sun. Too much direct sunlight can cause the leaves to burn. It is important that the lucky bamboo receive adequate light; lack of light will cause weak growth, stretching and poor color. Low light conditions will, also, cause stunted growth and inhibit new leaf growth. The light requirements for lucky bamboo are the same whether grown in water or in soil.
Watering
In water: Water level should be at least a couple of inches. Make sure the roots are covered with water; add water to keep the water level constant. Every couple of weeks change the water completely. Refill the container with clean water. Lucky bamboo is sensitive to the salts and chemicals in tap water; use distilled water or rainwater if possible. If you must use tap water let it set in an open container over night; this will let the chlorine evaporate. Mist the leaves of the lucky bamboo every couple of days if lack of humidity is a problem.
In soil : should be kept moderately moist. Lucky bamboo does not like to be soggy or dry. To determine water needs, stick your finger in the soil up to your first knuckle (about an inch deep); if soil feels dry, water. It is very important for lucky bamboo to have good drainage good drainage when planted in soil. Lucky bamboo in soil will need to be misted every couple of days.
Fertilization
Lucky bamboo doesn't require much fertilizer and can survive in pure water for quite a while. When you bring lucky bamboo home don't fertilize it for a couple of weeks; this will prevent over-fertilization. Yellow leaves on lucky bamboo are an indicator of over-fertilization. Anytime your lucky bamboo has been over-fertilized, change the water and don't fertilize for several months.
In water: Fertilize your lucky bamboo every couple of months (you can go longer). You can use a little dirty aquarium water (if you have it) or a diluted (tenth of the normal strength) water-soluble houseplant fertilizer. The best time to fertilize is when you change the water.
In soil: You can fertilize with the same type of fertilizer as above; however, you will need to fertilize once a month. Just replace one of your regular water cycles with the diluted water-soluble fertilizer.
New Lucky Bamboo can be created through vegetative propagation. Begin by finding a node – the raised rings that grow around the stalk – make a cut about an inch above the node. You will now have a top and a bottom. Leave the bottom in the original container. The bottom will have no leaves and after a few days will need to be lightly misted every few days to encourage new growth. The tops will have all of the leaves. Take the top and dip the cut end in rooting hormone. Let it dry overnight before placing the top in the original container or a new container.
Leaves with brown tips

 – Fluoride burn or lack of humidity. What to do: Fluoride Burn – replace water with clean distilled or rain water; Dry Air – mist leaves every day or every couple of days.

White sticky substance on stalks, snail-looking growth on stalks or cottony substances on stalks – insects. Scale and spider mites can be, although rarely, a problem for lucky bamboo. What to do: Clean the container and pebbles with soapy water (a few drops of dish detergent in water works well) and rinse completely. Wipe each stalk gentle with the soapy water and rinse well. Place the clean stalks in the container and fill with distilled water or rainwater.

Brown or mushy stalks

 – root-rot; roots have rotted from over-fertilization or over-watering (plants potted in soil). What to do: Cut the healthy tops off and root new plants.

Yellow Leaves

 – too much light or fertilizer. What to do: Too much light – place more distance between the lucky bamboo & the light; too much fertilizer – replace water with distilled water & don't fertilize for several months.

Algae growing in water and on container

 – too much fertilizer and light. Algae grows in nutrient rich water with ample light. What to do: Clean the lucky bamboo, pebbles and container with soapy water following the same procedure as above. Place the lucky bamboo in the container and fill with water. You might need to move it a little farther from the light or switch to an opaque container.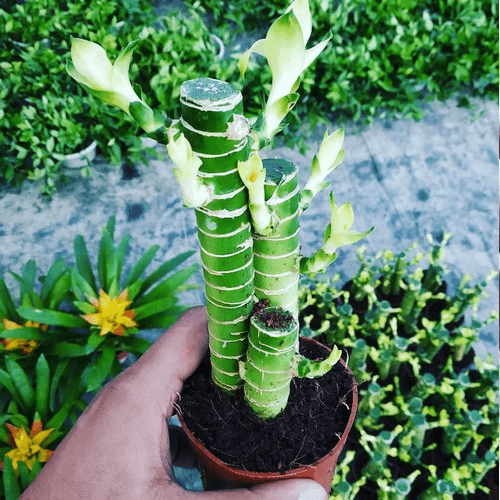 Potting Mixture: 

It's a mixture of appropriate amounts of soil, cocopeat & organic vermicompost. Provides best environment to the plant's roots. It also contains slow-release Fertilizer which gives nutrients to the plants every time it is watered for 6 months.
Packaging:

 Plant is secured in a good quality cardboard packaging. Inner Box holds the potted plant in place so that any movement during transit does not affect the plant. Outer box has slits which allow the plant to breathe freely during transit.